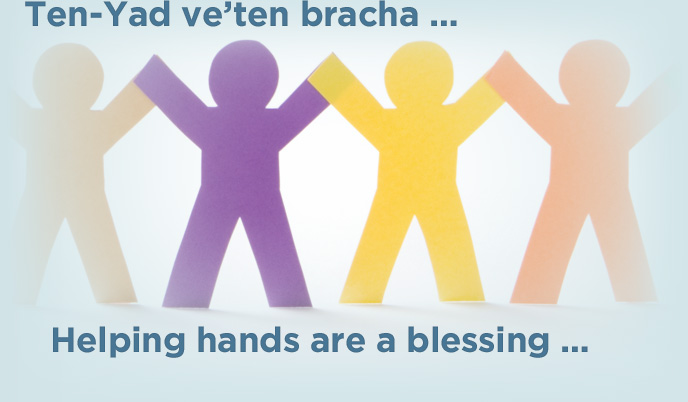 ---
Ten Yad of Ottawa is a grassroots, Ottawa-based organization run entirely by and through volunteers and dedicated to undertaking acts of Chesed (kindness). Our mission is to help individuals and families within the Jewish community during acute life altering situations, such as during the period immediately following a birth, or G-d forbid an illness. In some cases, our efforts are directed towards offering support for those families whose challenges may be complicated by the requirements of strict adherence to Kashrut and Sabbath observance. We have also worked with a family's "Circle of Support" to facilitate catered meals. In every circumstance, our efforts are directed towards making a difficult time just a bit easier to manage. Our organization offers a roster of support options that are described in our drop-down menu under "Services".
Our goal is to relieve the stress on individuals and families during challenging or extraordinary times. The more volunteers we have, the more help we will be able to provide. Ten Yad of Ottawa is an unaffiliated, independent organization, but we seek to work with other community organizations to meet common goals. There is an important role for all and we believe that everyone's contribution makes a difference. We hope that you will be moved to "Ten Yad"… to "lend a hand".
If you would like to be part of our dynamic volunteer team please contact us to hear more about the different volunteer opportunities.